ATLANTA – What started as a peaceful protest against the death of a Georgia-based activist took a violent turn in downtown Atlanta Saturday evening when people began throwing bricks at buildings and setting fire to police vehicles. In a joint news conference, Atlanta Mayor Andre Dickens and Police Chief Darin Schierbaum made their stance on this very clear: They will always support and protect the first amendment right to peacefully protest, there is no room for violence in Atlanta.
Demonstrators took to Underground Atlanta Saturday to demand an investigation into the death of Manuel Esteban Paez Teran, a 26-year-old protester who killed by Georgia State Troopers during a sweep at Intrenchment Creek Park Wednesday. That area is the planned site for the Atlanta Public Safety Training Center, or what some critics are calling "Cop City."
GEORGIA TROOPER STABLE AFTER BEING SHOT, PROTESTER KILLED NEAR CONTROVERSIAL 'COP CITY' POLICE FACILITY SITE
Manuel Esteban Paez Teran (Provided to FOX 5)
Investigators said Teran did not comply with commands by a joint task force, and that he fired at a trooper first.
"We can debate the circumstances of what happened Wednesday all day," Casey Sharp who opposes the police training center told FOX 5. "I would like to see an independent investigation of that."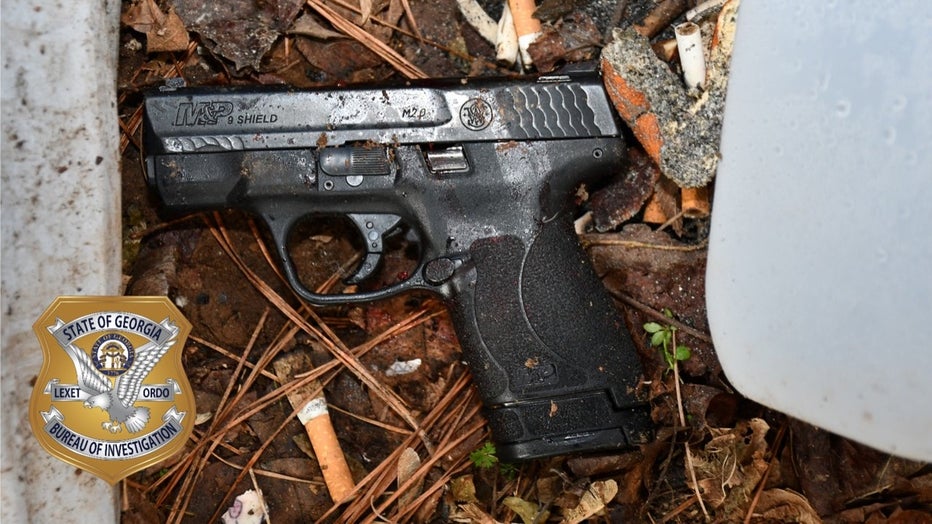 (Georgia Bureau of Investigation)
On Friday, the Georgia Bureau of Investigation released a picture of the gun the agency said they found on Teran. Officials said ballistic investigators matched that gun to the bullet that wounded the trooper.
Seven people were arrested and charged with domestic terrorism on Wednesday.
Mourners gather at the former site of Intrenchment Creek Park near the future Atlanta Public Safety Training Center for a candlelight vigil in honor of a protester killed earlier in the week on Jan. 20, 2023.  (Billy Heath / FOX 5)
Following a Friday night memorial service for Teran, who friends called "Tortuguita," Atlanta Police Chief Darin Schierbaum said a crowd gathered Saturday for a peaceful protest at Underground Atlanta. The area is famous for hosting Atlanta's "Peach Drop" New Year's Eve festivities.
For about an hour, people dressed in black marched along Peachtree Street in downtown Atlanta demanding justice for 'Tortuguita'.
Protesters march through the streets of downtown Atlanta for Manuel Esteban Paez Teran, a 26-year-old demonstrator who was killed by Georgia State Troopers who said he shot at them first. (Credit: Billy Heath)

From: FOX 5 Atlanta

"However, when that group arrived at the intersection of Ellis Street and Peachtree Street, a group inside that marching crowd decided to start committing illegal acts including breaking windows and attacking police cruisers that were in the area," Schierbaum said. The chief said some of those individuals were actors who have participated in other protests in the past. 
Mayor Dickens said some of them carried explosives.
"What I saw wasn't peaceful," a witness, David Abrohams told FOX 5, "Yeah, no, I mean blowing up cop cars and throwing fireworks at police officers is not peaceful."
FOX 5 was live on air when one of those vehicles suddenly burst into flames.
Individuals were also seen on camera busting out the windows of another police car.
Image 1 of 8 ▼ Atlanta Police Department vehicle burst into flames during the protest. (Credit: Billy Heath)

From: FOX 5 Atlanta

FOX 5 reporter Tyler Fingert and photojournalist Billy Heath III saw Atlanta police officers carrying zip ties during Saturday's protest.
"It doesn't take a rocket scientist or an attorney to tell you that breaking windows or setting fires is not protesting, that is terrorism," Schierbaum said in a press conference after the incident. "They will be charged accordingly, and they will find that this police department and the partnership is equally committed to stopping that activity."
Schierbaum said within two blocks, the illegal activity stopped, and six individuals were arrested.
The Atlanta Police Department released the following statement:
"Atlanta Police officers have responded to a group damaging property at several locations along Peachtree [Street]. Several arrests have been made at this time and order has been restored to the downtown space. This is still an active and ongoing investigation, and we will not be able to provide specifics on arrests numbers or property damaged, at this time."
A heavy police presence is expected in the area for the rest of the night.
Three businesses along Peachtree Street received damages to their windows.
"My message to those who seek to continue this kind of criminal behavior: We will find you, we will arrest you, and you will be held accountable," Mayor Dickens said.
Both Mayor Dickens and Chief Schierbaum said while they fully support and protect the right to protest, property damage will result in prosecution to the fullest extent of the law. 
"Violence and unlawful destruction of property are not acts of protest," Gov. Kemp tweeted out Saturday night. "They are crimes that will not be tolerated in Georgia and will be prosecuted fully. Thank you to the hardworking [Georgia Department of Public Safety, Georgia Bureau of Investigation, Atlanta Police Department], and others actively keeping our streets safe tonight."
There were no injuries reported for law enforcement or protesters involved.
MARTA officials announced that trains would not be servicing Peachtree center Station, streetcar shuttle van service has been temporarily suspended and bus shuttle service is being provided from Garnett to Civic Center servicing all stations except for Peachtree Center. Riders impacted can use the following link for an $8 Uber or Lyft credit, according to MARTA.
This story is breaking. Please check back for updates. If you have additional information, pictures, or video email newstipsatlanta@fox.com.
Credit: news.google.com